Yonkers and Bronx, NY – When it comes to straightening your smile, there are so many options today. While standard metal braces are still the most popular, there are Invisalign, ceramic, clear, self-ligating Damon braces and so many other options available today. So, what are they all, and which is right for you?
"Orthodontics has come a long way, and technology continues to improve every day," says Dr. Catherine Woo of Riverdale Family Orthodontics. "Chances are good that your orthodontist offers a host of different options to straighten your smile, so it's important to know a little bit about each one so you can make an informed decision."
Metal braces

Metal braces are still the most popular option for straightening teeth because they are efficient and cost-effective. And the good news for patients is that today's metal braces are more sleek and lower profile than ever before. They are a lot more comfortable nowadays and rub the cheeks and lips less.

Ceramic/clear braces

Ceramic braces consist of tooth colored brackets that are attached to teeth the same way metal brackets are. Because they are tooth colored, they blend in better, making them a more aesthetically pleasing option for some patients. They work the same way metal braces do, however they may not be ideal for every patient because they have more friction than metal braces and can cause a longer treatment time.

Invisalign

Patients who use Invisalign love it because it uses a series of clear, removable aligners to guide the teeth to their ideal positions. Because the aligners are removable, you can eat and drink whatever you want, and caring for your teeth is a breeze. And because they are clear, they are virtually invisible, making them cosmetically appealing. Not all malocclusions are appropriate for Invisalign, however, this is one of the best technologies that have improved over the past ten years and a large variety of cases can be treated well with Invisalign.

Lingual braces

Lingual braces are for the most part similar to traditional braces but what makes them unique is that they are fitted onto the tongue side of the teeth (inside the teeth,) making them almost invisible to others. Lingual braces are customized to fit the shape of your teeth.

Self-ligating braces

Self-ligating braces look the same as standard metal braces, but there is one big difference. Self-ligating braces use a special clip to hold the archwire in place, without the need for elastics. The clip can reduce the amount of pressure and friction on the teeth and potentially provide a more comfortable treatment., Also, without the need to change elastics, you can potentially visit the orthodontist less frequently.

"There are also many brands of each of these types of braces," says Dr. Woo. "Invisalign is a brand name, however, some orthodontists may use other versions of aligner therapy. Be sure your orthodontist is using top-of-the-line technology to ensure you have the best results. If you have visited more than one orthodontist and have been given a different brand name for braces, be sure to ask each orthodontist why he or she recommends that specific brand over another."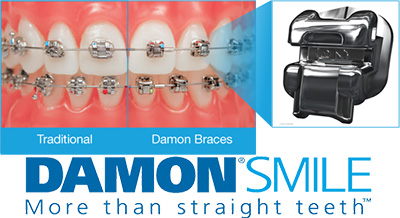 It's always important to talk with your orthodontist about which type of braces are recommended for your specific case, and to discuss the pros and cons associated. You may hear names like Incognito (a brand of lingual braces), or Damon (a brand of self-ligating braces). Be sure you fully understand what your orthodontist is describing to you so you'll better know what to expect during orthodontic treatment.
"Orthodontic treatment is unique to each patient we treat," says Dr. Woo. "I love when my patients come in understanding the different types of braces on the market today, but we also need everyone to understand that what may work wonderfully for one patient may not be ideal for someone else. However, by communicating and working together, we can find the right treatment to ensure you get a beautiful and functional smile at the end of treatment."