Bronx, NY – Every year the Best of the Bronx awards recognize outstanding businesses in the Bronx community that exemplify the very best in small business. Riverdale Family Orthodontics is proud to be the 2019 Best of the Bronx recipient for orthodontic practices.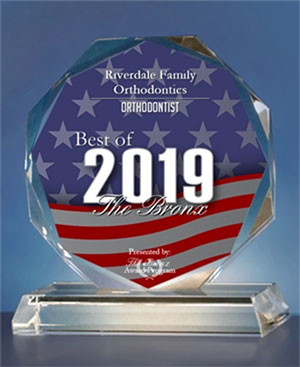 "We are honored again to receive the Best of the Bronx Award and I am proud of my team and their meticulous work with our patients," says Dr. Catherine Woo. "We strive to provide exceptional care while also maintaining an environment that promotes a feeling of family and receiving this Best of the Bronx award is a wonderful acknowledgment of my tremendous team."
Dr. Woo is a Columbia University graduate and board-certified orthodontist who is committed to maintaining a high level of care utilizing the most cutting-edge techniques. She has worked hard to build a staff committed to the same high ideals of patient care and satisfaction. The goal of Riverdale Family Orthodontics is to ensure every patient receives the individual treatment and care they deserve, resulting in a beautiful, functional, straight smile for life.
Riverdale Family Orthodontics treats patients of all ages and offers convenient weekend and evening hours, allowing even the busiest patient to find time to fit appointments in. Dr. Woo and her team are also tri-lingual, speaking fluent English, Spanish and Mandarin, to ensuring communication is a focal point of care.
Dr. Woo offers patients a variety of treating options, ranging from standard metal braces to Invisalign, lingual braces and everything in between. Treatment plans are carefully crafted to ensure beautifully straight and properly functioning smiles when treatment is complete.
Dr. Woo is also pleased to have a partnership with Dr. Sam Polan and Tuckahoe Family Orthodontics. The pair have a combined five Ivy League degrees between them, signifying their commitment to education and the very best in orthodontic care. Working together means patients have access to two Ivy League trained orthodontists that can examine their care, ensuring their smiles are in the very best hands.
"This Best of the Bronx recognition is especially meaningful because it recognizes local businesses right here in our area," says Dr. Woo. "We know there is a lot of competition in the small business world and in orthodontics. We hope that our team and our work speak volumes, and we thank the community for recognizing the hard work we put in each and every day."
To learn more about Dr. Woo and Riverdale Family Orthodontics, visit www.riverdalefamilyortho.com or call 718-884-7700.